Variety is at the heart of what breeders do. They plan new combinations of mixed strains attempting to capture the best elements of different plants. Modern marijuana plants are quite different than they were fifty years ago, precisely because people have been constantly striving to create new and better strains. This is true of gardeners, who prefer having a cornucopia of different sizes and colors of plants.
Sometimes when picking a seed strain to grow, the choices can be overwhelming. Factors such as space available, whether the grow is indoors or outdoors, and which strains are preferred affect the choice. Not to mention a variety of seeds is usually the choice for both big and small gardens. While growing a full crop of Arjan's Strawberry Haze might be rewarding, sometimes it's better to grow one of each plant.
Greenhouse seeds offer an interesting solution to this problem, by selling bundles of seeds with five different strains. The combinations have themes, such as pure indica strain, solely sativa's and of course hybrids. Each pack contains some of the best and most popular plants in the industry. They do not want their customers to have anything but the best when it comes to plants. More than 20 years of experience has taught them that variety makes for the best harvests.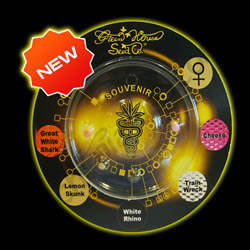 Color Coated Seeds
It might seem like it would be easy to mistake the seeds in the container, but Greenhouse Seeds has been prescient enough to have the seeds color coated in the package for ease of identification. Once they are fully grown they will unmistakably be The Church, Arjan's Super Lemon Haze, El Nino, White Rhino, White Widow or whichever combination of power plants like these is chosen. These are some of the biggest names in the marijuana industry offer a variety of different highs.
It's hard to get bored of a marijuana strain, but sometimes it is nice to branch out. Greenhouses Seeds' Mixes are an easy way to diversify a garden without having to buy. Try a variety of Indicas, or Sativas to see which strains are best and your favorite. There is nothing better than having a variety of strains to choose from then you get home at night. No other seed bank can offer as many combinations of seeds at such low prices. Visit their website for all the best strains, many of which are unavailable at any other seed bank.