Arjan's Ultra Haze #2 is probably one of the best Hazes in history, thanks to its great and somewhat euphoric psychoactive effect that makes it the ideal option for a very unique flavor and to trigger an effective candidate.
Its flavor is complex alongside delicious, with a blend of fruits that explode on the palate with each puff with a background of wood. A haze of fresh and lasting taste that is sure to be pleasantly surprised!
Its effect is very activator, psychoactive with euphoric traces, highly social, and perfect for partying or enjoying the company of friends. After the first puff, notice how slowly it takes over your body and mind, until without realizing … you are fully seated. It is not an effect that prevents you from performing tasks … although it is best to enjoy the no obligations.
This sativa strain has a flowering period of 12-13 weeks indoors, while outdoors it can be harvested in late October or early November (Northern Hemisphere).
It has a great size, and is a very tall plant with long branches- another excellent candidate for cultivation techniques like LST or SCROG. If exterior height is a problem, you can always mold it a little or do a croppeado.
You can buy feminized seeds Arjans Ultra Haze # 2 seeds in packages of 3, 5 or 10. We always recommend buying original and unopened packages, so that seed quality is guaranteed.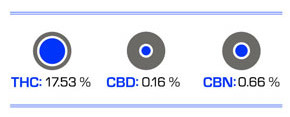 If you have any questions about this variety, send it to us via the comments and we will help you resolve it.